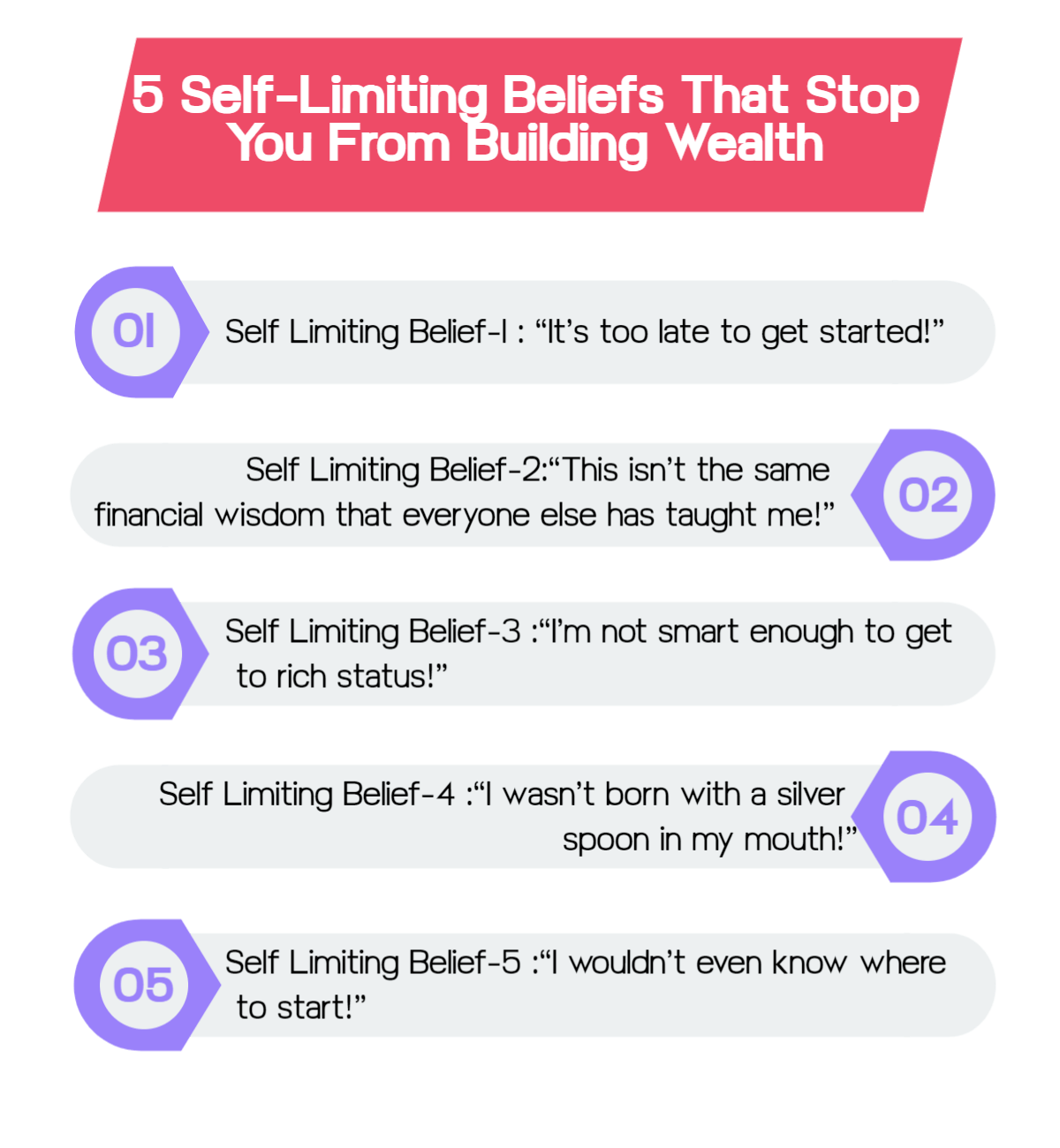 Everyone dreams of becoming wealthy, of reaching financial independence, of owning a huge mansion or having a beautiful little place of their own.
Every time we think about our fantasy, we treat it as just that – a fantasy.
Our dreams may seem too good to be true, but as we dream and visualize these amazing dreams come to fruition, they will happen.
Why couldn't these questions be a reality?
"I'm no stock broker or tech startup genius," you might say. "I wouldn't know where to begin!" Well, the first place to begin is to stop making excuses.
Self Limiting Belief-1 : "It's too late to get started!"
Is it? Once upon a time, people said the same thing about going to school, but today you will see teenagers going to college just as much as seniors do.
It is the same for achieving your financial goals.
Investing in stocks, saving, and earning money has never been easier thanks to the rise of technology.
No matter your age, you can always put in a little time to research how people have gained financial independence and became rich at varying ages. Nothing is set in stone. No matter your age, major, or place in life, it is never too late to learn.
Self Limiting Belief-2:"This isn't the same financial wisdom that everyone else has taught me!"
No, it's not and there's a good reason why. Expecting financial secrets to stay the same for decades is like expecting people to still be using 3g technology in massive quantities in 2022.
The old fashioned ways either need to change or undergo something called "second order change.
There's an entire world of change out there. We can try to avoid it at all costs, or we can embrace it and learn from it.
Self Limiting Belief-3 :"I'm not smart enough to get to rich status!"
If you want to be an alchemist gold-maker, the first thing you need to do is believe it and the next thing you need to do is get out of your comfort zone.
You don't need to be a stock guru or an investing genius to invest or to do well with stocks.
The more you know about your subject the better.
No matter how you look at it, the mentality of being too out of the know to achieve a goal is a self-defeating mentality.
The truth is, there are many ways out there for you to climb the ladder.
You can learn practically anything you want to know online now. The internet is a great place to learn anything and everything, from how to become a doctor to learning how to juggle.
If you do not know where to begin, look up some key phrases like: "beginner tips to investing and stocks" or "financial independence". In essence, there are plenty of places to get started. You just have to take that first step.
Self Limiting Belief-4:"I wasn't born with a silver spoon in my mouth!"
Not everybody can climb their way to the top. But that doesn't mean that they can't try.
There have actually been movies about people getting richer, such as When Harry Met Sally, or movies that start out in the middle-class, but then the protagonists go up to the upper-class.
I'm sure there are many more movies about people who start from humble beginnings who end up as billionaires than in the Hindi cinema industry at any given time.
Develop a plan to make money doing what you enjoy. Learn how to turn your interests, hobbies, and talents into something that can get you closer to the financial plateau.
There are millions of people all around the world who want to be rich. Mark Zuckerberg even has a movie about how he climbed up from basically nothing to become one of the most wealthy people known worldwide.
This is just a short story – but it's a really fun one!
You should never give up on your dreams!
Self Limiting Belief-5 :"I wouldn't even know where to start!"
Do not worry , you are not alone, A lot of people don't.
Don't. Here's a little tip: look at the person you most admire, perhaps the person who got you into the idea of wanting to aspire to better financial goals.
What did it take to get there? Sometimes, the key is inspiration and motivation from others who have gone before us.
So long as you don't try to imitate anyone else's path to success, there are no limits to what you might accomplish.
Do what they say and see how it goes. You might even get them to send you some free stuff in the process!
Uncertainty is the most frightening thing in life, but it's also just an excuse to never get started.
If you're not working on something that really matters, then you'll never get anything done. That said, you must take time to enjoy life and you should be looking towards the future.
Conclusion
These five mindsets really can hinder you with long-term or short-term goals towards wealth. A negative mindset can hinder numerous aspects of life, really. However, the responsibility of shifting up those mindsets ultimately falls to the individual. The truth is, in most cases, you are the one holding yourself back. You don't need to be a genius, born in splendor, or even have a direct business plan to achieve goals of wealth. You just need some research, dedication and confidence.
If you are having any self limiting belief issue, let's connect to identify them and work to correct them. Please drop a message to me on 9328190022.