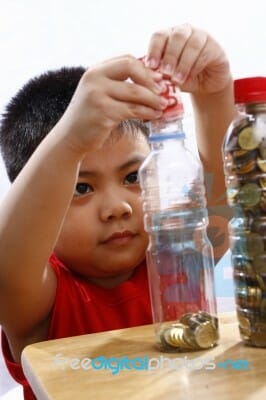 The parents are driven by twin passions: kids and money. Caught between furnishing one and fostering the other, the parents forget that there is also the need to strengthen the bond between the two.
BASIC MONEY SKILLS
Instead of buying assets and hoarding money to secure your child's financial future, just inculcate good money habits and skills. It will ensure that he is able to manage his own finances as an adult and not rely on your legacy to sustain him.
Value of money
Understanding the value of money is the foundation on which the child's future attitude towards money is based. purchasing power of money and appreciating the hard work that goes into earning it. The former can be further demonstrated in two ways: how many things can be bought with a given sum, and how the purchasing power of money goes down with time.
Budgeting
Teaching the child how to manage money at a young age will not only help him organise his finances as an adult, but also instill the discipline to live within own means. So give him pocket money and let him decide what to do with it. The purpose is to make the child keep tabs on the inflow and outflow of money, while learning the importance of saving and spending right.
Do not create rules on its usage, but educate occasionally about careful spending.
Making & reaching goals
It is a skill that is critical to achieving major financial milestones later in life. So if a child is keen to buy something, make him do it by setting it up as a goal. Let him figure out how much money he can save each month and then calculate the time it will take to amass the required sum.
Making money grow
This is a skill that is typically given a miss by most parents till the child is an adult. It is, however, a good idea to explain to the child how money can grow at a different pace depending on the avenue in which you invest it. As a simple exercise, have the child put the money in a piggy bank and show how it remains the same after, say, six months. Then put it in a bank account and reveal how it has grown during the same period.