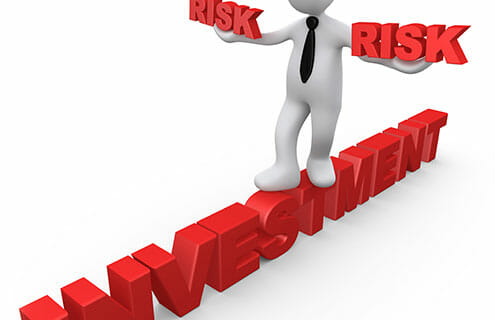 What is Risk In Investing? How To Manage…
When I ask this question to participants of my training session, I get Following two answers ;
1) Not Getting Capital back -fully or Partially
2) Not Getting Expected Returns
Majority of Investors are risk-averse.
Here is a test to yourself.
Qu-1
Option-A: You will win 10,00,000
Option-B: There is an 80% chance of winning 12,00,000 but 20% Chance of Winning Nothing

Qu-2
Option-A: You will loose 10,00,000
Option-B: There is an 80% chance of losing 12,00,000 but a 20% chance of losing nothing
If you have selected Option-A from Q-1 and Option-B from Q-2 you are also risk-averse.
Risk-Averse behavior means you prioritise keeping your capital intact over returns on capital invested.
The problem with such investor behavior is they also prioritise presently visible capital loss as compared to future loss.
Let's Understand ;
Majority Investors shy away (which is fast changing) from Investing in Equity as they afraid of losing capital.
The same investor, while investing into bank FD/Fixed Returns investments, do not realize that if they do not earn returns that are at least equivalent to inflation if they are not losing capital but their capital's future value i.e purchasing power of the same amount is getting eroded which is equivalent to losing capital.
The reasons for such behavior comes from poor personal finance literacy as an investor does not understand real returns and is happy with stated returns.
Real Return = Return from Investments – Tax- Inflation.
So it's never a choice between 'risk or No-risk' but it's a choice between 'Risk of losing capital Now or Risk of Losing Capital Later'
Investor also need to estimate their inflation.
As if we consider average government inflation of the past 20 years or more, it's approx 7.5, but government inflation does not reflect inflation of lifestyle as it tracks only need base items such as food grains, etc. and do not track want based items such as cost of watching a movie in a multiplex.
So Investor needs to assess that their post-tax return should be equivalent to their lifestyle inflation if they wish to protect the purchasing power of their hard-earned money or higher than lifestyle inflation if they wish to grow their hard-earned money and make their money work hard the way they are working hard to earn the same.
I am not suggesting that each and every one of your investments needs to produce Positive real returns but your weighted average portfolio returns should at least meet with or at best beat your own lifestyle inflation.
So To conclude it's never a choice between whether to take a risk or not to take the risk but the real choice in front of investors is to whether to take a risk now and grow wealth or differ risk later and lose the purchasing power of your money.
Of course, there are strategies such as asset allocation, Re-Balancing that can be used to optimize risk-adjusted returns from your portfolio.
By-The-Way, Did you know that You can have 1 hour of my consultation free of cost? Yes, It's True. Click here to book 1 Hour Free Consultancy call.